Acting Director - SARETEC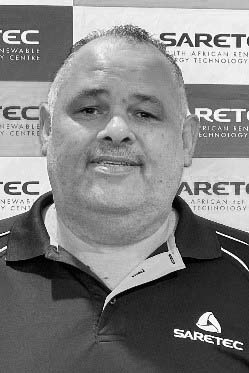 Claude is currently the Acting Director of SARETEC, having been initially tasked with Project Managing the development of 21 SPVT Technical Mentors, to be stationed at 7 TVET Colleges around the country, over 3 years. This is part of the implementation of the Solar Photo Voltaic Technician qualification on the MerSETA-funded ICT4APP project. He also oversees the infrastructure development at the TVET Campuses presenting the SPVT Programme, ensuring compliance with QCTO requirements and guidelines.
SARETEC is also the only QCTO accredited SDP, and are working closely with all stakeholders to finalise the EISA for the Wind Turbine Service Technician. They are also currently developing and registering a variety of Skills Programmes relevant to the sector with QCTO.
Claude previously managed the implementation of Western Cape Government (DEDAT)-funded Skills Programmes and Projects, incl. Learnerships, Apprenticeships and Skills Programmes with various Public and Private Training Providers. He also project-managed the implementation of the Artisan RPL and Mentorships projects.
Claude's strength is in the liaison with stakeholders and industry, and managing information of all training programmes as well as maintaining healthy relationships with industry and stakeholders. He has more than 20 years of experience in the Skills Development arena, having worked in the TVET sector for almost 3 years, managing the implementation of Learnerships, Apprenticeships, Skills Programmes and ARPL projects.
He has vast experience in, and knowledge of, the skills development environment and legislation, and has a wide network of resources that he can access.
Register to attend Solar Power Africa